Common Core State Standards and
Kurzweil 3000-firefly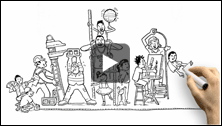 Three Minute Video Explaining the
Common Core State Standards
Building on the excellent foundation of standards states have laid, the Common Core State Standards are the first step in providing students with a high-quality education.
The standards clearly communicate what is expected of students at each grade level. This allows teachers to be better equipped to know exactly what they need to help students learn and establish individualized benchmarks for them. The Common Core State Standards focus on core conceptual understandings and procedures starting in the early grades, thus enabling teachers to take the time needed to teach core concepts and procedures well — and to give students the opportunity to master them.
The Common Core State Standards articulate rigorous grade-level expectations in the areas of mathematics and English language arts. These standards identify the knowledge and skills students need in order to be successful in college and careers.
Students with disabilities — students eligible under the Individuals with Disabilities Education Act (IDEA) — must be challenged to excel within the general curriculum and be prepared for success in their post-school lives, including college and/or careers. These common standards provide an historic opportunity to improve access to rigorous academic content standards for students with disabilities. The continued development of understanding about research-based instructional practices and a focus on their effective implementation will help improve access to mathematics and English language arts (ELA) standards for all students, including those with disabilities.
The challenge still remains: how to best assist those students who continue their struggle to read and learn from the same grade level text as their peers? Kurzweil 3000 – firefly makes curricula accessible for students with learning disabilities such as dyslexia, those who require additional reading intervention, students who struggle with reading comprehension and English language learners. Alignments to the Common Core Standards are located below. Learn more by contacting sales or join us for one of our FREE Webinars.