Written by the Kurzweil Blog Team
When I was asked to go to San Diego in March to manage our exhibit at CSUN, the Annual International Technology & Persons with Disabilities Conference organized by the Center on Disabilities at California State University, Northridge, I enthusiastically said, "yes!" Not only was I going to travel to the beautiful city of San Diego but I was also going to see some of the technology that makes it possible for people with disabilities to lead independent lives.
Here are some snippets describing what I saw at CSUN this year.
A young woman came to our booth to talk about Kurzweil 1000, our text-to-speech software for people who are blind or who have vision impairments. She lost her sight shortly after receiving her bachelorís degree in electrical engineering and is now studying for a Masterís using Kurzweil 1000. She said she wouldnít be able to continue in her studies without a tool like Kurzweil 1000. That was a nice story to hear.
Quite a few people visited us to learn more about firefly and the relationship between Kurzweil 3000 and firefly. I drew pictures to explain that firefly and Kurzweil 3000 are an ecosystem united by the Kurzweil Universal Library in the cloud. Documents are uploaded to the Universal Library using Kurzweil 3000. These documents can be read using either Kurzweil 3000 or the web-based version of firefly or the iPad app version of firefly. The following picture (which is better than anything I can draw!) shows this relationship. This is a simplified version of our ecosystem because more can be done with Kurzweil 3000-firefly than just reading documents. But this is a start in understanding the relationships.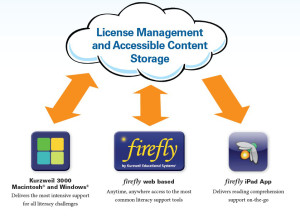 A quick walk around the exhibit hall reinforced my delight at the knowledge that technology has given a voice to people who learn, interact, and communicate differently. It was hard not to notice the devices for magnifying text, or the high definition cameras to bring content into reading devices, or communication apps to help people who canít speak, and more. Without technology, so many people would be unable to prove they can be contributing members of society. Hooray to technology!
| | | | |
| --- | --- | --- | --- |
| | | | To end, I have to mention the Stevie Wonder sighting! His appearance on the second day of the exhibit caused quite a stir as people snapped photos with their phones. Stevie graciously posed with several people, including our own Cami Griffith. As a huge fan of Stevie, Camiís day, month, and year was made. |
Are you ready to take it for a spin?
Sign-up for a 30-day free trial or contact us for a guided tour.