Written by Debby Frohbieter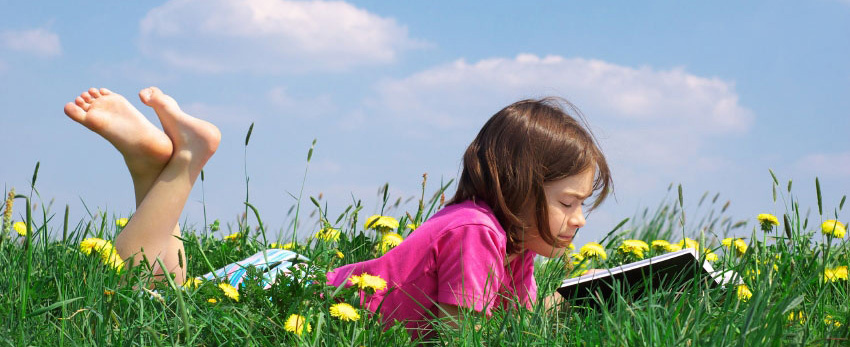 Most grandparents want their grandchildren to live next door. We want the grandchildren close by so we can spoil them, then send them home when the damage is done. For me, though, I have to find other ways to maintain a relationship with my granddaughters, two and five, who live 2,000 miles away.
Technology is indispensable for this. My older granddaughter, Isabelle, and I Skype once a week. Since she's barely five, it only takes a minute or two to have a conversation, so after hearing about what new moves she learned in dance and who she had a play date with, she and I read books together. If my dream world existed and Isabelle lived next door, I would be reading to her all the time, not only for my pleasure but to help instill a love for reading. I believe it's vital to teach young children to love reading because without it, their world would be smaller and less interesting.
Isabelle and I each have a copy of the book we're reading together and bookmark the page where we left off the previous week. Before we start to read, she settles on what sound I'm going to make to tell her to turn the page. (Boing is the favorite page-turning sound so far.) I read one or two chapters during each Skype session. Our first book was Adventures of Frog and Toad by Arnold Lobel. Now we're reading Angelina Ballerina's Storybook Treasury. Next will be The Big Green Book of Beginner Books by Dr. Seuss. At the suggestion of an educator, we're also going to read the David books by David Shannon and some Roald Dahl books. And I just sent Pippi Longstocking by Astrid Lindgren to read in the future. Isabelle wants to read Harry Potter but we're going to put that off for a few years!
My granddaughter loves the time we spend reading and tells everyone she knows, and even some strangers, that she and her nana read books over Skype. I love this time with her and am so pleased I can contribute to Isabelle's love for books. When her sister, Zoe, is older, she and I will read together, too. I can't wait.
Are you ready to take it for a spin?
Sign-up for a 30-day free trial or contact us for a guided tour.