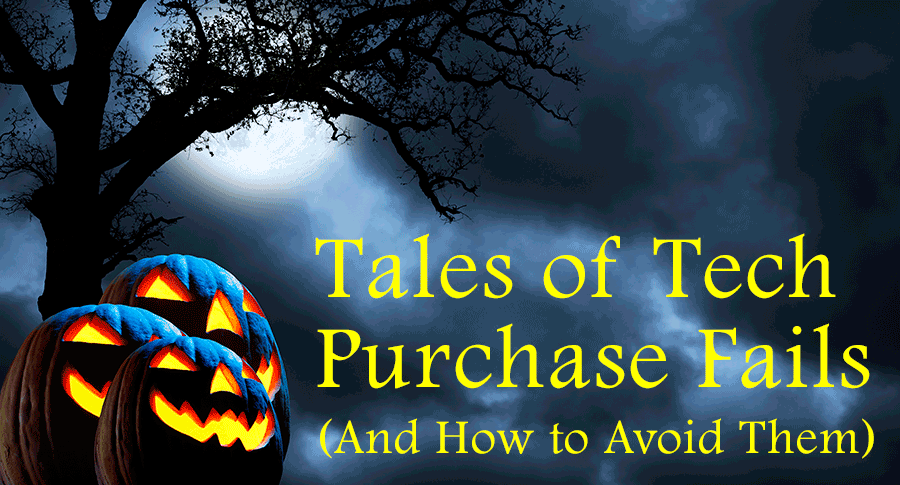 Written by the Kurzweil Blog Team
While it may seem a little early to start sharing horror stories, this story in particular is too good not to. In a quiet suburban town an elementary school realized that something was missing. They did not have the technological resources to teach students the skills needed to meet state standards. They banded together, secured the money, and purchased new devices for the school…only to find out that they didn't have the internet connectivity to support their new purchase (Ahh!!!). Now $30,000 worth of devices sit in a school closet collecting dust.
This is a true story. Sadly, there are many other instances like this of technology purchase fails—from never opening the packaging to going through all the steps and never seeing the technology adopted by students or teachers. Avoid purchase pitfalls with these tips from the experts.
Ask the Experts: Implementing New Technology
Question: What's the biggest mistake to watch out for when implementing new tech?
Mary Hinson, International trainer and consultant, Owner of Equal Access
Make sure the operating system will support the platform and ALWAYS run through the essential functions of the new tech before training. Always do a full dry run and test every key function of the program before unrolling it. There's no going back and if you unveil your new tech and it doesn't work properly, you will just frustrate them.
Karen Narvol, Assistive Technology Consultant, Kurzweil Education Trainer
The biggest mistake when implementing new technology is not considering the needs and abilities of all students in a school or school district. Too often, technologies are adopted (and purchased) without thinking about Universal Design for Learning (UDL) principles. These principles include multiple means of representation, multiple means of action and expression, and multiple means of engagement. UDL provides ways for teachers to customize their teaching for students with a wide range of needs, abilities, interests, and backgrounds. Schools should be designing learning environments that eliminate barriers for students, including a UDL-designed curriculum and appropriate technologies.
Eric Nentrup, eLearning Coach, Speaker, Writer, Google Educator
The question I see to be the most difficult to position early enough in an evaluation is:
"What is the ultimate NET of making the switch to a new piece of education technology?"
I've spoken with hundreds of education decision-makers that are victims of the "sunk cost fallacy," staying with a solution just because the contract doesn't expire for another year or two, or that think the time invested in training on a not-so-user-friendly piece of enterprise software is grounds for staying with that vendor.
My advice would be: if a solution presents itself that saves you any combination of money, time, and guessing at a child's educational needs, don't be afraid to walk away from what was the prior best decision you could make with the information given at the time of the choice.
Suzanne Feit, National Consultant, Training Specialist for Kurzweil Education
1. Not making the focus of the new technology relevant to the curriculum.
2. Not providing stakeholders with the information they need to understand how this new technology implementation will benefit both students and teachers.
3. Overwhelming teachers with a new technology by not providing the necessary training or the time they need to incorporate it into their daily lessons.
Avoid Tech Purchase Fails
Before you hand over that money, take a step back and try to envision exactly how your new technology initiative will be rolled out. The first step—take a bottoms-up approach. Identify what your students' needs are and how your team will use the technology to support them. Also, be sure to test new technologies in the school before you purchase them. Contact us for insights on how to develop your implementation plan.
It's Your Turn! Ask the Experts
Are you unsure how to use a feature, or is something taking longer than you think it should? Do you wonder how other educators would address the particular needs of a student?
Are you ready to take it for a spin?
Sign-up for a 30-day free trial or contact us for a guided tour.