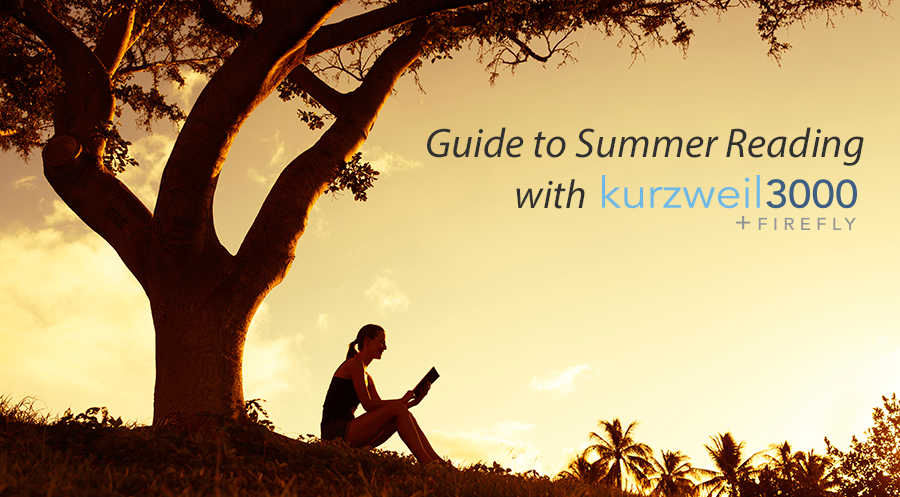 Written By Suzanne Feit M.S
Summer is a great time to catch up on classic literature in preparation for middle school and high school. The big question is; what should our students be reading? Here is a quick guide on ensuring that students are not only reading, but reading the right materials. The best part is that they are all be found—for free—in the Kurzweil 3000 online library.
The Seven Basic Plots in All Literature
There is a theory that all stories written are based on one of seven basic story plots or themes. The plots are retold with different settings, characters and details, but the essence is always the same. This is important to know, because when our students study literature, the national and various state standards encourage comparison, comprehension and analysis of characters and plots. The seven basic plots are outlined in the book, The Seven Basic Plots: Why We Tell Stories, by Christopher Booker. The seven plots can be found in ancient myths, folk tales, plays and the great literary novels and are repeated in the popular movies and TV shows of today. In his book, Christopher Booker illustrates how the seven archetypal themes recur throughout every kind of storytelling. If you understand these classic plots, then you can begin to discover the underlying philosophy and psychology of society.
There are 1,800 titles that are easily viewed in the Classic Literature folder of Kurzweil 3000's online library. This really is a wonderful way to give students the opportunity to read and understand the classics, at anytime and anywhere that's convenient for them!
Here are the seven plots, along with the names of the some of the books in which they appear:
The Quest: hero sets off to reach a goal. Examples: The Count of Monte Cristo (Alexandre Dumas), Dracula (Bram Stoker).
Voyage and Return: the hero adventures in a completely new, often threatening world, and eventually returns to normal life, a changed person. Examples: The Wonderful Wizard of Oz (Frank Baum), Alice in Wonderland (Lewis Carroll), The Time Machine (HG Wells).
Comedy or Romantic Comedy: the hero and heroine are kept apart by a series of complications, misunderstanding, or obstacles which are removed for a happy ending. Examples: Pride and Prejudice (Jane Austen), Shakespeare's comedies.
Tragedy: the protagonist starts high, and through a series of poor decisions or character flaws, falls from grace – to the sympathy of the reader. Examples: Romeo and Juliet (Shakespeare), The Picture of Dorian Gray (Oscar Wilde), Anna Karenina (Leo Tolstoy).
Rebirth: the hero is imprisoned by a dark force (whether physically, emotionally, etc) and eventually overcomes it, emerging as a changed person as in many fairy tales. Examples: Snow White and the Seven Dwarfs (Brothers Grimm), A Christmas Carol (Charles Dickens), The Secret Garden (Frances Hodgson Burnett).
Overcoming the Monster: the protagonist must face a great creature, often much stronger than himself, and eventually overcomes the beast. Examples: Jack and the Beanstalk (Joseph Jacobs), Little Red Riding Hood (Charles Perrault), The War of the Worlds (H. G. Wells).
Rags to Riches: through a course of events, an ordinary protagonist rises to become extraordinary – the change doesn't necessarily need to be about money, as long as a positive and dramatic change has taken place. Examples: A Modern Cinderella (Louisa May Alcott), Great Expectations and David Copperfield (Charles Dickens).
Guide to eBook Classics
There are hundreds of additional titles for students to explore and enjoy in the Kurzweil 3000 Classic Library. And, once a student discovers a favorite author, s/he can enjoy multiple adventures from that author. To review the entire list of books available, check out Kurzweil 3000's list of classics.
You'll find a variety of literature categories in the Kurzweil 3000 Classic Library including:
Literary Classics by authors Jane Austen, Geoffrey Chaucer, Joseph Conrad, Charles Dickens, Fyodor Dostoyevsky, Hermann Hesse, Henry James, William Shakespeare, George Bernard Shaw, Leo Tolstoy and Oscar Wilde.
Children's Classics by authors L. Frank Baum, Brothers Grimm, Rudyard Kipling, Jack London and Mark Twain.
Classic Texts from Aristotle and Plato.
Scientific Works such as Einstein's "Relativity: The Special and General Theory."
Reference Materials, including world fact books, famous speeches, history resources, and United States law including, the Constitution and Declaration of Independence. You will be able to review the State of the Union speeches and Inaugural Addresses of many presidents.
Religious Texts such as the Bible and Koran.
Is There a Place for the Classics in the Common Core?
The Common Core Standards (CCS) for literacy reinforces the concept that students read, analyze and learn to compare literature. Here is a link for recommended books for the CCS.
There are over 20 eBooks on the list of CCS examplars that are already in the Kurzweil 3000 online library, in addition to many eBooks on historical figures and documents.
One focus of the standards is to have students analyze how an author draws on and transforms source material in a specific work (e.g., how Shakespeare treats a theme or topic from Ovid or the Bible or how a later author draws on a play by Shakespeare). By the end of grade 9, students are expected to read and comprehend all kinds of literature including, stories, dramas, and poems. Students that are challenged to read at a higher level are able to listen and follow the text using Kurzweil 3000. Examples of grade level alignments can be found on the CCS pages of the Kurzweil Education website.
Engaging Students with the Classics

Whether your students are starting middle school or high school, they have the opportunity to develop a lifelong appreciation for literature. The best literary resource for them to use is one that enables each student to move at her/his own pace, search for meaning from the text and move beyond the task of decoding. With Kurzweil 3000, the text is read out loud, the definitions and translations are a click away and note taking is as easy as highlighting and extracting the highlighted material into a study document. When students can learn in the way that works best for them, they can unlock their unique potential.
Are you ready to take it for a spin?
Sign-up for a 30-day free trial or contact us for a guided tour.