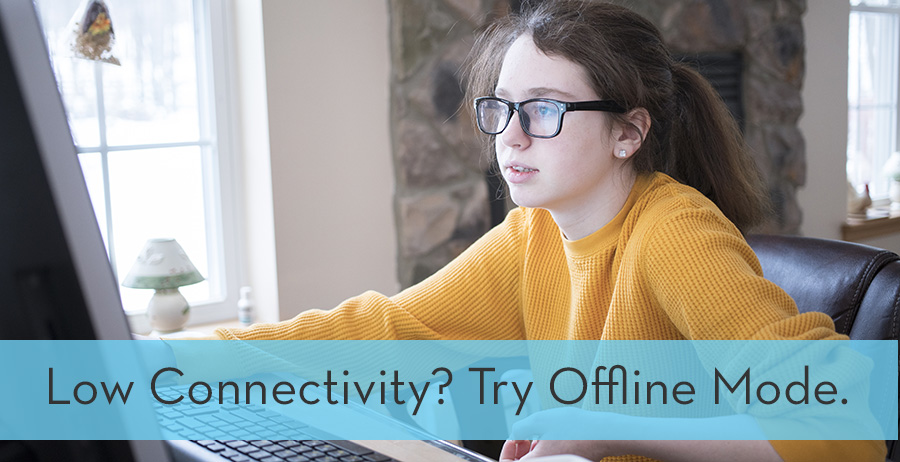 Written by the Kurzweil Blog Team
The benefits of web-based learning are virtually limitless, except when learning is limited when students can't get online. That's why we're pleased to introduce offline mode for subscribers of Kurzweil 3000.
What is Offline Mode?
With new offline mode, students and educators can work disconnected from the internet. This is a step towards closing the "homework gap" and a leap towards providing a seamless experience when connectivity is intermittent. While this doesn't sound new for non-subscription customers, it does open new doors. Schools can now get the full benefits of a web license subscription while still offering literacy support when student aren't connected. More importantly, offline mode gives educators more flexibility in meeting the individual needs of students. Let's take a look at two of the main issues with connectivity and education to see how.
5 Million Households with School-aged Children Don't have High-speed Internet1
Only 8.4% of households with annual incomes over $50,000 lack a broadband internet. By comparison, 31.4% of low-income households don't have broadband internet—children from lower-income households are four times less likely than those from middle or upper-income households to have the means to access homework, curricula, and supports offered online. While steps are being taken to close the digital divide—from the 2016 Modernization Order of the Lifeline program to parking school buses with free Wi-Fi2 in residential areas—many students are flocking to libraries, fast food restaurants or anywhere they can find free hotspots to do their homework.
How can Offline Mode help students who can't afford the internet?
Students can download assignments and books from their school onto their laptops and work on their homework from the comforts of their home. When they return to school the next day, they can upload their homework. This allows schools to cater to students who have and students who do not have the internet. It's the best of both worlds. Very importantly, students who are reading and/or writing below grade level will have access to comprehensive literacy supports at home.
We know what you'll say next: students who don't have internet access at home usually don't have a computer. The reality is that even students with internet access may not have computers and complete their homework on a phone. Smartphones are limiting, especially for students who struggle with reading and writing. It's important to remember that with every little step, the digital divide gets a little smaller. Here are recommended sites where families can qualify for free or inexpensive computers.
The On It Foundation– a national, non-profit organization that offers FREE computers for low-income families with children in grades K-12 that attend a public/homeschool within the United States
Komputers 4 R Kids – refurbished computers fixed by volunteers donated to those in need
World Computer Exchange – a global nonprofit connecting that offers computers to youths in developing countries
For options by state, this post lists them all (or very close to it).
Nearly 10% of All Students Attend Rural Schools with Low or No Internet3
More schools have access to high-speed broadband than ever, but we have a long way to go. The FCC reports that "47% of the nation's students lack connectivity to meet the Commission's short-term goal of 100 Mbps per 1,000 students/staff." Rural areas are hit the hardest—98% of Americans living in rural territories lack access. While the FCC is working with schools to update fiber networks on their own, updating the infrastructure will take time.
Why is Offline Mode helpful for students with low access?
Schools (or households) with low or intermittent internet access will see Offline Mode as a real benefit. When students are working and the internet connection is lost, a message box will automatically open to ask if they'd like to continue in Offline Mode. Students can save their work on a local drive and upload the assignment when the connection is reestablished. The learning experience is practically seamless. They (of course) will not be able to access content online, use the ReadTheWeb feature, or use web-based reference and translation tools. They will, however, be able to use the many reading, study skills, writing—and test-taking—features as if there was no change.
How about areas with no access?
For schools and communities that are lacking any connection to the internet, you can still provide literacy support with Kurzweil 3000 Network or Standalone. When students are connected, they can still access online features, such as ReadTheWeb. However, where connectivity is a real issue, students can still get the literacy support they need.
Don't Let Internet Access (or Lack Thereof) Slow You Down!
Take Kurzweil 3000 for a spin today. Sign-up for a 30-day free trial or contact us for a guided tour.
Sources:
1The numbers behind the broadband 'homework gap', Pew Research
2Bridging a Digital Divide that Leaves Schoolchildren Behind, The New York Times
32016 Broadband Progress Report, FCC