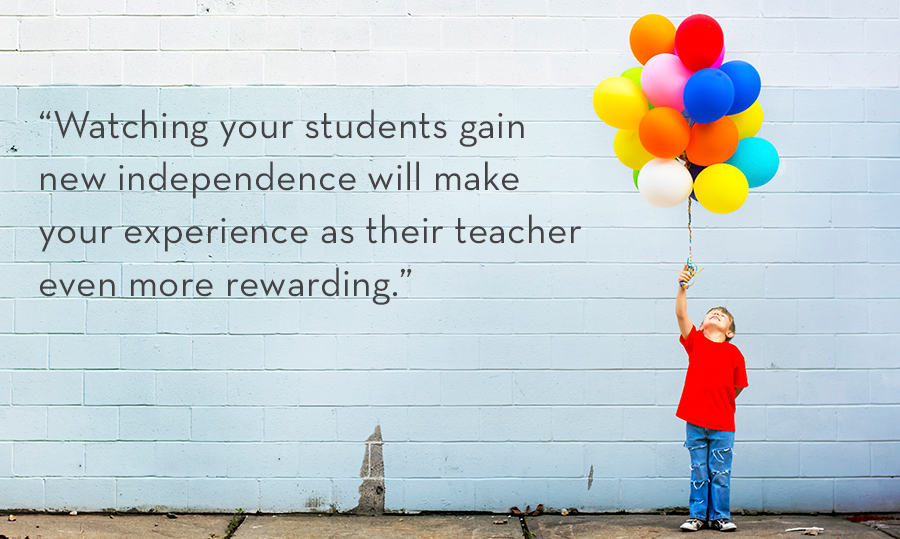 Written By Tim Villegas, Founder of ThinkInclusive & Special Educator
According to the Office of Special Education Programs, seventeen percent of students with any disability spend all or most of their days in segregated environments. For students with moderate to severe disabilities (including autism) it may be even more.
Educators have a range of reactions to this number. Perhaps you are as appalled as I am, or maybe youíre thinking that seventeen percent doesnít seem so bad. After all, students are placed in the Least Restrictive Environment (LRE), giving them the maximum possible opportunity to interact with non-disabled peers.
Damienís Inclusion Story
During his Kindergarten year, Damian was in a self-contained classroom for the most of the day. He only attended music, art and PE with his typical peers. In 1st grade he began the transition to be included in academic segments in general education. Each year, the length of time increased. These videos give a brief chronicle of his 1st and 4th grade year being included in a general education classroom.
| | | |
| --- | --- | --- |
| Damian 1st Grade: | | Damian 4th Grade: |
| | | |
The Role of the Special Educator
But seventeen percent doesnít explain the repercussions on their learning while separated from their peers. When students spend the majority of their time in self-contained, multi-grade classrooms, they miss out on vital learning in the general education curriculum. The depth and breadth of this curriculum is simply impossible to replicate in the self-contained classroom where lessons span three to five grade levels at a time, scheduling often conflicts with therapy, and students need support for a concentrated mixture of social/emotional and sensory regulation difficulties.
While self-contained special education teachers do their absolute best, itís not an ideal situation. In large part, my job is not only to deliver high-quality instruction but to prepare my students to succeed in general education and participate in the life of the school.
There are three main reasons why students are excluded from the general education classroom:
1. Challenging Behavior
2. Academic Performance
3. Complex Health Needs
As special education teachers, itís our job to help students overcome these barriers and access the curriculum alongside their peers. Facing these challenges, what are the practical steps a special education teacher should take to include students in general education?
1) Which of my students are the closest to grade-level academic work? What are their strongest subject(s)?
In my twelve years of teaching in self-contained classrooms, I have always had at least two or three grade levels at one time. It remains a struggle to differentiate lessons and the classroom to meet the needs of learners who are working on different things (according to the standards). When I start to consider which students to include in general education, I look for the clear outliers in the group.
My classroom may have up to eight students ranging from third to fifth grade. Is possible that one of my fifth graders is working close to grade level in reading, but the rest of my students are one to two grade levels behind. In this instance, I would look to place that student in a general education reading segment (or even a reading-heavy segment like social studies).
2) Find a teacher in general education that you enjoy working with. Do everything you can to develop a relationship with that teacher and grade-level team.
Itís easy to segregate yourself as a special education teacher. At any particular school, there are only a handful of self-contained special education classrooms (mostly likely only one or two). These classrooms are forgotten all the time. Itís not because the school staff doesnít like you or your students. Itís because youíre not visible. Make the effort to be visible in the school community: eat lunch in the cafeteria instead of your classroom, volunteer for school leadership positions, and go to after-school teacher mixers. You will become an extension of your classroom.
While youíre rubbing elbows with your colleagues, take note of the people who are open to you and your students. Start with the ones who still have a good attitude about teaching. Truthfully, working in collaboration with other teachers is always best practice, but this gives you an excuse. In addition, find a grade-level team that will include you. Itís a good idea is to pair up with the grade level most represented in your classroom. Through this connection, you can find valuable information about special projects, field trips, and curriculum-specific resources.
3) Pre-teach what your student is expected to do and what they will learn. Donít be afraid to modify their work in order for them to access the curriculum.
Almost everyone likes to know what to expect before they enter a new environment. In your classroom, you can do this in a number of ways: written or picture schedules that explain the order of events for the day, a verbal explanation of the dayís schedule and classroom rules, and even a trial run to model an action or routine (including use of a script).
Whatever the subject your student attends in the general education classroom, try to get the information in advance. If youíre not able to get the information, make sure you are notified of any quizzes or tests so you can account for any changes to the classroom assessments. These should be listed in the classroom accommodations in the IEP. For any special projects, you can either rewrite the instructions for your student or review them with your student during the span of their work. Donít be afraid to ask the teacher to assist in modifying the assignments. You will know best how to provide your student with meaningful access to the curriculum.
When you are used to having your students with you all day in a self-contained classroom, itís difficult to imagine what it will be like to support their inclusion in general education. Just do it. Itís not easy, but it is the right thing to do, and watching your students gain new independence will make your experience as their teacher even more rewarding.
Visit Kurzweil Education online for details on
who we help
to see if our technology is a good fit for your students.
| | | |
| --- | --- | --- |
| | | Do you teach in a self contained special education classroom? Do you want to include your students more in general education but just donít know how? Visit the Kurzweil Academy to watch past webinars on-demand. |
Are you ready to take it for a spin?
Sign-up for a 30-day free trial or contact us for a guided tour.