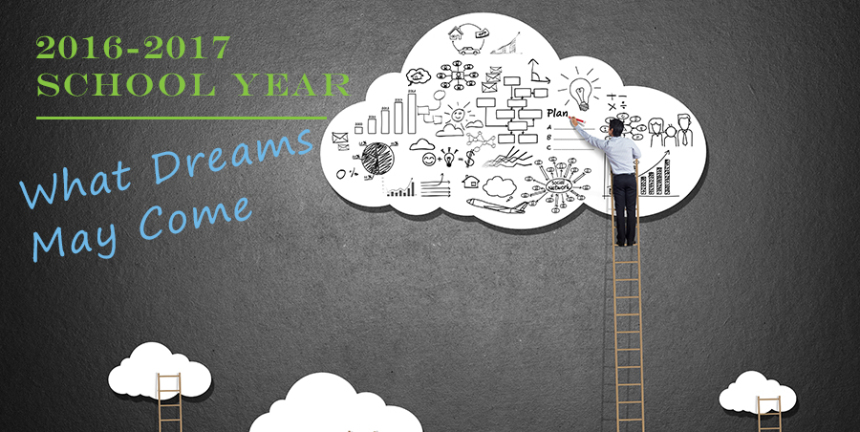 Written by Matthew James Friday
Other Than a Teacher
It's the middle of that period of time that has most other professionals pulsing with envy: the summer holidays! At the time of writing (in Lucca, Italy) I am properly on holidays: there is no marking and assessments to do, the Purgatory of after-school meetings is a distant memory, and I have (almost) suspended the Body Clock governed by the daily school timetable. I can finally relax. I can be something other than a teacher. If only I can work out what that is and if I want to be it.
What Dreams May Come
Like any dedicated teacher, thoughts about the next year are only one cup of coffee or glass of wine away. More so perhaps for teachers who are changing schools of or grades, or embarking on new directions in their career, or married to another teacher, as I am. My wife and I changed schools a year ago, moving from an International Baccalaureate (I.B.) international school in China to a similar school in Germany. I spent the last year teaching in Grade 4 and then accepted an exciting request to move up to Grade 5. Like elementary schools in the U.K. and the U.S., Grade 5 is the final year before Middle School (or Secondary School in England), and there is a lot of pressure on teachers and students alike.
While I do not have to deal with the intense standardized testing that occurs in England, I.B. schools require students to engage in the 'Exhibition': an intense, in-depth and independent 6-8 week inquiry project that aims to present to the school community the culmination of all the skills and concepts taught over proceeding years. This is the first time I have taught in this grade and it comes with many new skills for me to master. I move up to Grade 5 with half of my Grade 4 class, including some students with significant learning needs that include dyslexia. So naturally, I have some clear goals that I will outline below. I also have some wider ambitions for the year, which I will describe.
My Top 5 Goals:
In no particular order, here are my five goals for the next academic year, the success of which is entirely down to me.
1. Keep telling stories!
With a packed curriculum and demands flying in from all corners of school management, it is important for me to maintain my role as the school's storyteller. While I probably won't have an afterschool storytelling club this year, I will continue to tell stories in weekly assemblies, with my students as actors, and use storytelling to support narrative and language engagement in class, especially as I have two new students joining with little English.
Last year I started a new initiative – the Young Bards. Students in my class wrote stories and then told them in other classes using their friends and other students as actors. They were wonderful role models to the younger children. So with 'student action' the heart of the I.B. curriculum and one of the core focuses for Grade 5, this is an obvious activity to reinstate.
2. Start the Primary School Student Newspaper
Talking of student action, this is the year I want to fulfill a long-held ambition to create a student-driven school newspaper, which will be a first for our school as well. I will use a Google Website as the template, mainly because our school is a Google Drive school so the Grade 5 students already have their own Drives and are confident in creating Google Docs. Initially, I will run it as an afterschool club for Grades 5 and 4, and I already have a group of interested students. I will keep it low-scale and allow the students to grow it. Teaching journalism and interview skills are not part of the Grade 5 curriculum will take some time to put these skills in place. I also want it to be a place for students to publish their creative writing and artwork. The fact that the students will hopefully take on different roles and run it themselves easily links to student action. But I will give myself the full academic year to trial this new endeavour.
3. Systems for Students with Dyslexia
My S.E.N. Manager and I were reflecting on last year and the progress students had made. Two students from last year who have dyslexia and other challenges are staying with me. A goal is to establish with them better systems for independent self-management of materials. Both students made big progress in this area but there is still some way to go to prepare for a huge project like Exhibition, and, beyond that, the challenges of Middle School with its many different teachers, classrooms, materials, etc.
4. Acting Opportunities
Providing students with opportunities to act in front of large audiences was one of the big successes of last year. Once a week students helped me perform a story in assembly to the rest of the school. In the last quarter of the year I also created the afterschool Shakespeare Club and we wrote and produced our own 32-page version of Romeo and Juliet….with an almost all female cast! (Worthy of a separate blog in itself) The students have already asked me to do another Shakespeare club, so I will certainly plan to do this.
5. Support the New School Charity
Towards the end of the year, the high school Head of Math asked if I would help him create opportunities to support a new whole-school charity project in Tanzania. I immediately agreed as I believe it is essential for International Schools to be leaders in sustainable, environmentally and a socially responsible charity that empowers people in poorer parts of the world. There is also great potential to link with student action. Quite what this will look like has yet to be decided.
My Top 5 Ambitions
The following five ambitions as seriously intended but rely on input from other colleagues, so there is less certainty about their outcomes.
1. Links with the Middle School
Connected to the last goal above is the fact that the Middle School would like there to be more connections made between the upper end of the Primary school and itself, in terms of curriculum, assessment and teaching practise. I quite agree and will engage in a new mathematical inquiry project. I have also offered to help initiate transition connections in the field of literacy, my area of strength. I started this last year by using feature of the Grade 6 Scientific Model templates to help create better vertically articulated skills. Again, what this will look like has yet to be decided.
2. Storytelling Visits
During Literacy Week in the last academic year I visited other classes as a storyteller, and I was able to demonstrate the almost immediate connections that can be built with students when you tell them a story in an entertaining manner. It is magical and I am almost constantly surprised and reminded by it. Even now as I write this, I feel enthused to do more with storytelling. Luckily, my Grade 2 'Buddy Class' for next year is a teacher keen for more stories and is also musical. So I will be asking her to accompany me on the piano and try to encourage her musical flair. At the end of the year a German colleague requested that I do some staff training on 'telling stories', which I would be happy to do. Another colleague has moved to a nearby international school and is keen for me to visit and tell stories there.
3. Use the Ukulele in the Classroom
This is a bit of a random aspiration, but inspired by a musical friend who works in a school in Vietnam, I bought a ukulele and started learning some songs. I already play a few chords on the guitar and used to use it in class and during storytelling, but that has lapsed recently. Many of my colleagues are musical, so I am sure I will find encouragement. Back in England a few years ago a colleague ran a Ukulele Lunchtime club as the instrument is relatively cheap and easy to play. I won't over-stretch myself here and start a club, but I could bring more music into the classroom.
4. Adapting the Curriculum
In the last project of the former academic year, I learned valuable lessons from my students with dyslexia. One student flourished when she was able to express herself with art and writing creative stories on a Google Doc. The other student, who started the year with no English, enthusiastically wrote stories about dragons and typed commentaries about his opinions of Street Art. It is a valuable reminder of the need for visually-driven learning. The challenge for me is to find authentic and, from a manager's perspective, acceptable adaptions to the curriculum that develop skills but incorporate these students' interests and unique skills. I also want to bring Environmental Sciences to the foreground of our inquiry. Luckily, this already happens with the 'Exhibition' process but the challenge is to help the students sustain their ideas and action. On a wider level, is one occasion per year really enough to tackle irrevocable climate change? Is Education responding in an appropriately urgent and thoughtful manner to the challenges our students will face as adults? I will develop this point in a future blog.
5. Creativity and Action
Following on from my goal to support new whole-school charity events, I would love to set up a regular 'open mic' story evening event whereby members of the school community – students, teachers and parents – can share stories in all their forms, from the poetic and theatrical, to the prosaic and musical. If it can be linked to the school charity, all the better. The many goals and ambitions listed above may mean this is not achievable. At the very least I should be able to more visibly model my other 'life' as a writer, predominantly a poet. It is important to be a role model and act in the manner in which you want students to act.
Certain Future.
There are still a few weeks of holiday to go (apologies for any feelings of envy), but I can already feel the coming year: the nervous smiles of the students on the first day, the yawns of teachers having to reprogram their Body Clocks to early starts, the bitter-sweet thought that the long summer has ended and the hectic business of teaching begins again in earnest. I will work as hard as I can to achieve all of the above – perhaps hopelessly ambitious – goals and ambitions. I will also try to do so without burning myself out – a problem I struggle with every year! As to my success, we will see in a year's time…
What are your goals and ambitions for the school year? We'd love to read about them in the blog comments.
Are you ready to take it for a spin?
Sign-up for a 30-day free trial or contact us for a guided tour.