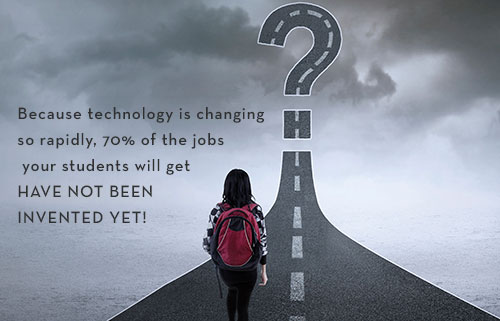 Written by Matthew James Friday
Stating the Obvious
Technology is rapidly changing society. There, I've stated the obvious. Every week a new article quotes the latest research about how rapid and fundamental this change is. Education should be at the forefront of this change, supporting students to both develop new skills and manage those changes. Often, education lags behind changes in society, struggling to keep up with the pace of change and also the budgets needed toaddress it. This perhaps is also stating the obvious.
The Pre-Digital Teacher
A great many teachers in schools as of 2016 grew up in the pre-digital era. Like many of my colleagues, I know the world before mobile phones and iPads; when a search engine was something brand new in university libraries and social media was just the dull local news channel. At my high school school computers were a novelty, kept in a 'computer lab' where data was loaded on huge floppy drive discs. We programmed chunky PCs using DOS programming, and we had no idea what that meant and why so much programming only created a game with a few moving lines.
In my adult lifetime, computers have evolved from extensive PC towers to cheap laptops and smartphones; the last one having far more capacity than the first. Now, as a teacher, I am required to have technology blended into my classroom practice, especially with literacy.
The Future Is Not Invented Yet
And not a moment too soon. Over the last five or so years at professional training events I have attended, the same message:
Technology is driving industry, business, the job market. Because technology is changing so rapidly, 70% of the jobs your students will get HAVE NOT BEEN INVENTED YET!
This is a remarkable idea and one that underlines the essential need to have meaningful, skill-based technology activities blended into all learning, especially literacy. Students need to be confident, creative and critical thinkers when using technology. For children with dyslexia, technology offers wonderful opportunities to be as visibly literate as other students, given the fact computer programs can help correct spelling, punctuation, grammar; provide software to interpret information in visuals ways; inspire bedroom musicians, online gamers and artists, etc, etc.
My Learning and Teaching
While teaching creative writing at universities in London ten years ago, I found then new text-to-speech software enormously helpful in managing my dyslexia when writing reports on students' writing. (There's nothing more embarrassing than being a creative writing teacher whose own writing is full of errors.) Advances in this software can be a lifeline for some students. I can only imagine how much further my brother would have progressed in education if he had such technology in the late 1980's. He had books he couldn't read, teachers who didn't believe that dyslexia existed and an education system that didn't want to educate him. No wonder he dropped out of school and abandoned learning.
I currently work in in Grade 4 in an international school in Germany where technology is woven deeply and purposefully into the daily learning for my students including those with dyslexia. Previous to Germany, I worked in China where technology was hugely limited, partly due to schools budgets limiting hardware and partly due to the Chinese government limiting the search function of the internet. Now I am in Germany, I have thrown myself into learning as much about technology and literacy as possible, and it is my learning and practice that I now want to share with you.
Digital Literacy is Literacy
When technology was fully embraced by schools, it was quickly made a separate subject, along with specialists training for support teachers. 'Digital Literacy' became another strand of the curriculum. More recently, technology has become more mobile and better connected to daily activities. As laptops have become cheaper and iPads prevalent, so devices have entered the classroom and blended with more traditional literacy practice. Digital Literacy is increasingly inseparable from traditional literacy. In short, in the 21st Century, it's all just literacy.
"Digital Literacy is increasingly inseparable from traditional literacy. In short, in the 21st Century, it's all just literacy."
Aside from the new skills needed to physically use a new device or piece of software, any digital literacy uses the core reading and writing skills you first see on the paper. Technology is not (yet) a replacement of these core skills; it is a supplement to them. Children don't learn to read or write on a computer, they learn to use the computer to aid their learning. For students with dyslexia, technology can be the essential aid in this process, without which the core learning skills may never be mastered.
The Hardware in the Classrooms
For any school claiming it is meeting student needs in the 21st century, then a basic volume of hardware is needed. Our school is pretty typical of this in that I have access to: a mobile trolley of twenty Macbooks, a mobile trolley of 20 iPads loaded with different apps, around 30 chrome books with keyboards and touch-screen interfaces; 3 class-based iPads; and school-wide wifi. I certainly don't find myself wanting for anything more but neither am I suggesting what we have represents the ideal.
A few years ago, Macbooks were recommended to me someone with dyslexia as their functionality was geared towards a simpler, visual approach, especially in terms of organizing files. Though I certainly prefer using them now, I am not sure if there is research out there to support the same amongst students. For my students with dyslexia, they use a range of different hardware devices. The important difference seems to be the software.
I Do Not Work For Google
Just before I describe that, I want to add a brief caveat. Below you will read a lot about Google and it's many tools. I do not work for Google and am not trying to promote them above other providers. It's just that my current school uses their tools almost exclusively and I have learned how to apply them productively. I will endeavor to show balance where I can…and ask Google for a cut of their profits. I expect the first will be more successful than the second.
Unintentional Google Promotion
Talking of which, in my grade and the grades above all students have their own Google accounts. In my grade, the email and chat function is disabled as it is deemed inappropriate for students to use at that level. They are taught to responsibly use these functions in Grade 5.
The key component of the account is the use of a Google Drive – the free online cloud capacity that is now a part of a Google account. Students have access to a range of Google apps, such as Google Docs, Google Sheets, Google Slides, etc. When the students create a document, they must 'share' it with me, which creates a private email link that links me to the source document. I then file a copy in my own school Google Drive account. Any changes the student makes to the document, I can always see and track.
Google Docs in School and Home
Most popular are is the Google Docs, which are essentially a simplified version of Word. My students use Google doc to:
Publish texts written in the traditional manner in their Writing Journals. These texts can then be shared with other teachers and uploaded to the website-based portfolios.
Compose new texts in school, as they become more confident computer based writers.
Create texts at home and then send them to me. The students create poems and stories, record responses to reading homework, create slide shows, etc. This is one of the best aspects of the technology as it creates authentic links between the classroom and home.
Collaboration
One of the best features of this technology is the fact that students and teachers can collaborate on texts at the same time, in 'real time'. One criticism of overuse of computers in the classroom is that the teacher can act redundant or passive, standing back while the students supposedly work; but with this collaborative feature the teacher is present in front of the students and on the screen.
Examples of how I seen it work include: students writing stories together in pairs, and students creating lesson plans, posters and sign-up sheets for the lunch time clubs they run for younger students. When students publish non-fiction texts, they can easily be shared with other teachers and students. I run a co-curricular club in which we are producing our own version of Romeo and Juliet. We are currently all working on the script together, with many student authors in the same Google Doc at the same time, adding lines and editing.
Work in Progress
In the interest of being balanced, there are some issues with this blanket approach to Google. The students build portfolios on free Google Websites. The set-up for these is overly complex and the design functions limited, though the compatibility with all Google Docs is the main reason we use it.
One Google App with potential is the speech-to-text function. For students with dyslexia, this could be a lifeline, allowing them to create texts that match the complexity and creativity of their thinking. In a classroom or wider school setting, it can be difficult to get the required silence needed so that the microphone doesn't end up converting passing conversation or sounds as nonsense words or phrases.
Other Technology Options
Here is a summary of other ways technology is integrated into classroom and homework learning.
iPads are used for recording picture and video evidence of learning, and creating Google docs, and then uploading them all Google Drives via the Drive app.
In a previous school I modeled how iPads can be used collaboratively for research, with students linking up to a class Apple TV account that displays their findings on the interactive whiteboard for all to see.
A set of Chomebooks acts as a useful back-up when the Macbooks are in use in other classes.
As is the case with many schools, we use IXL.com as a homework option in Math and English.
Also, we have Raz Kids to support reading at home. The audio book function broadens the options for students though it does not, in my opinion, ever replace reading a printed book or having a parent read a book to their child at bedtime.
We have access to www.typing.com for students to develop their typing skills.
A school subscription to the online Primary Britannica website is an essential research tool, especially when the library is unable to supply specialist texts.
The Limits of Technology
A balanced approach to technology in literacy acknowledges that technology is not a replacement for core skills. So, for example, if students have not developed the skills of writing and talking in compound and complex sentences, they will find it hard to do so on a computer. This is something I am discovering this year, having noticed how much the student's quality and complexity of sentence level writing drops when they write on computers, with so much energy going into typing.
"Technology is not a replacement for core skills."
Equally, I have noticed in the last five years, as iPads and computers are used more and more to reinforce reading and research, that reading comprehension is lowered. Students tend to scan online texts rather than read at depth, and as a result they miss key information that might not happen in a normal book. With note-taking, students can be tempted to cut and paste information websites and download pictures without properly synthesizing the information or crediting the sources. This can be a significant problem as it amounts to digital plagiarism and copyright theft.
Tackle the Problems, Teach the Skills
The answer is not to avoid using technology in the above contexts, but to first ensure competency in those core literacy. I have been focusing more on compound and complex sentence writing on paper, to form better habits. So recently, when writing Lab Reports on a Google Doc and updating our portfolio websites, I am able to expect better sentence writing.
Equally, we have established methods of note-taking on paper that is both academically honest and properly synthesized and organized. In conjunction with our librarian, we have introduced the skill and requirement for the honest and accurate citation of sources for books, online texts and pictures. These skills are then transferred to the computers with much better results.
Technology is Reality
The need to teach digital literacy and have technology blended into the classroom is now, to return to the start of this article, stating the obvious. There are dangers in having students spending hours and hours staring into screens, but most educators understand the need for balance, and parents are increasingly requiring it. As technology develops, it must be embraced, understood and used productively to enhance literacy skills.
The need to talk, read and write with creativity and accuracy are an ancient human skills that are in even greater demand in the 21st century. Technology offers so many brilliant opportunities for children and adults to achieve this, to overcome barriers, to defeat learning difficulties and to fulfill their potential. It is our job to make sure this happens.
Are you ready to take it for a spin?
Sign-up for a 30-day free trial or contact us for a guided tour.