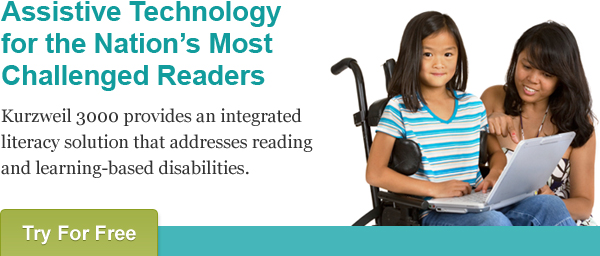 Kurzweil 3000 'reads aloud' text from digital and print formats allowing users to access print materials for casual, educational as well as professional reading.
For readers with Dyslexia, Attention Deficit Disorder (ADD), English Language Learners (ELL), those who have the cognitive ability but lack the requisite literacy skills, Kurzweil 3000 assists as they read and learn alongside their peers and levels the playing field for academic achievement and professional success.
Highlights and Features of Kurzweil 3000 Include:
Provides access to all major digital files, websites, and scanned printed materials.
Is adaptable to the multi-tiered classroom, to the special education class, to the college environment, as well as to the workplace.
Provides lifelong support.
Presents materials visually and verbally to support the various ways people learn.
Assists with visual tracking as materials are read.
Offers a single user interface with a talking word processor, auditory spell check, bilingual dictionary, and thesaurus to build lifelong writing skills.
Includes audible dictionaries integrated with Google™ Translate to allow translation "on the fly" in English, French, German, Spanish, and Italian, among other languages.
Is anchored upon the principles of Universal Design for Learning (UDL) and Response to Intervention (RtI) to support use in schools.
Is adaptable to switch and adaptive keyboards for the physically disabled.
For more information, contact our sales team.