Kurzweil Educational Systems, the award winning text-to-speech and assistive technology, offers powerful reading, writing and test-taking software literacy solutions for struggling readers and writers.
Text-to-Speech Solution for those with Reading Disabilities

Simultaneously listen to and read scanned text, image text, digital files and internet pages. Accessible file types include: TXT; HTML; PDF; TIFF; NIMAS; MathML; DOC; RTF; DAISY and any scanned paper with text and photos.
Visually track words and phrases on screen while reading aloud.
Highlight or create Text, Bubble or Voice notes.
Hear what you write as you work, and as you review, proof, and edit your work.
Use a research-based writing path to process writing models.
Create audio files for listening to text anywhere.
Text-to-Speech Solution for those with Vision Impairment

Provides easy access to common personal and business applications: An audible calendar, calculator, photocopier and fax.
Integrates with popular email applications.
"Reads aloud" scanned text, image text (such as PDF files), digital files and Internet pages.
Allows for text resizing, split screen and continuous paging options.
Assists with simple forms completion.
Includes features for note taking and outlining.
Camera support for HoverCam®, ABiSee's Zoom-Ex and Eye-Pal.
ePub® support that allows reading and writing of ePub documents
Kurzweil: An Integrated Literacy Solution for Life
It is no secret that life demands the reading and comprehension of print material, whether in print form, online or digital text; for school, personal business or the workplace. Here is how Kurzweil Educational Systems can help: Our products offer a multi-sensory approach, and multiple means of access to text; whether in print, online or in digital formats. Kurzweil includes the highest quality Optical Character Recognition (OCR) software available, which reproduces scanned print documents with the exact layout and format found in the original then the software can read the document aloud. In this way Kurzweil software products give reading disabled, blind and vision impaired users access to casual reading, workplace documents and classroom curriculum and the freedom to read and write without the need for a tutor or human assistant.
For more information,
contact our sales team.
Watch a Bookshare subscriber using Kurzweil 3000.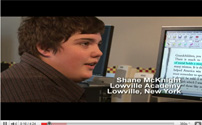 "I use Kurzweil 1000 to scan my books, mail, even food boxes. And I have used its handy feature for identifying money. I have found it to be the most efficient and user friendly way for me to read almost anything without human assistance. Each new version of Kurzweil 1000 has increased scanning accuracy and added features that make scanning, finding, and reading material of all types faster and easier."

-- Sarah V, Kurzweil 1000 User