The History of Text-to-Speech Technology
Kurzweil Education has a robust and dynamic history in developing assistive technology products for those living with a learning disability. The evolution of the Kurzweil brand has allowed us to help those who are reading disabled, blind and vision impaired to better support access to reading materials, workplace documents, and classroom curriculum through our literacy technology. We have pioneered the way in making text-to-speech software more accessible, customizable, and integrated for users. Working with names like Stevie Wonder, Kurzweil Education has a rich background in developing products that fit your devices with our solutions, no boundaries, no barriers.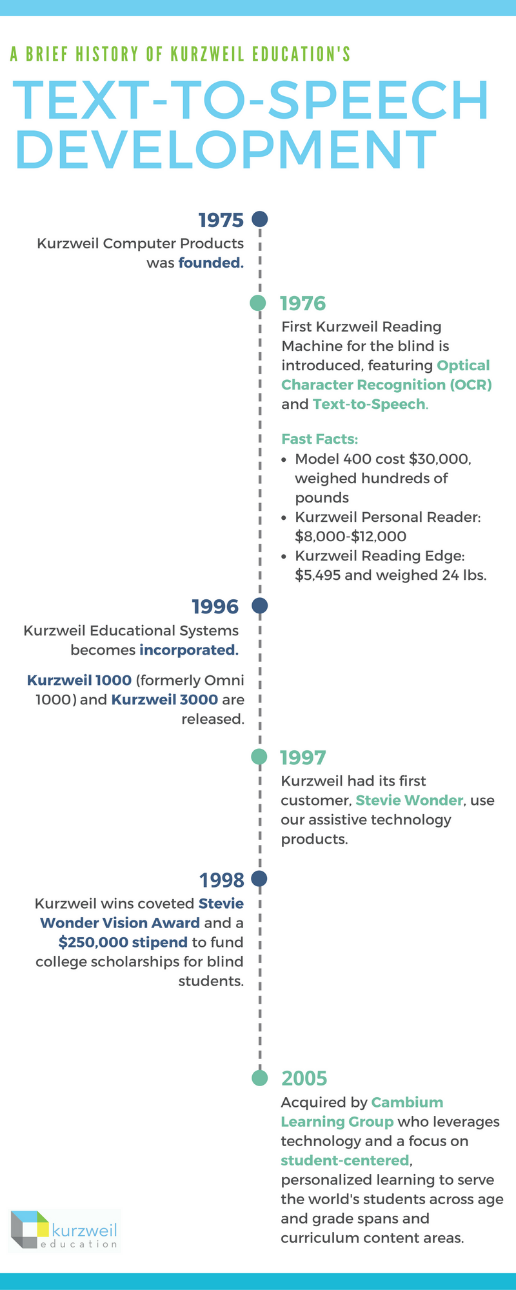 A Summary of Kurzweil's History Working with Text-to-Speech
Kurzweil Education is proud of our deeply rooted experience in developing cutting-edge literacy technology. Our text-to-speech software offers powerful solutions for reading, writing, and test taking to better support struggling readers and writers.
1975: Kurzweil Computer Products was founded.
1976: The first Kurzweil Reading Machine for the blind was introduced, featuring Optical Character Recognition (OCR) and text-to-speech technologies.
1996: Kurzweil Educational Systems becomes incorporated and launches kurzweil 1000 (formerly Omni 1000) and kurzweil 3000.
1997: Kurzweil had its first customer, Stevie Wonder, use our assistive technology products.
1998: Kurzweil wins the coveted Stevie Wonder Vision Award and a $250,000 stipend to fund college scholarships for blind students.
2005: Cambium Learning Group acquired Kurzweil Education and put a focus on leveraging technology with student-centered, personalized learning to serve the world's students across age and grade spans and curriculum content areas.