Educational Software for Sheltered Instruction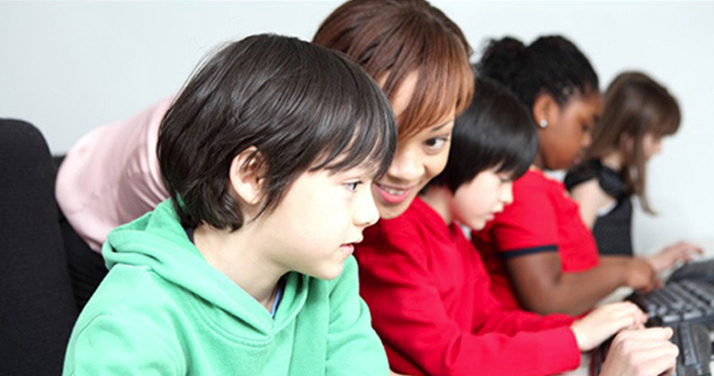 Adoption of sheltered content instruction can be an important factor in successfully bringing ELL students to grade-level academic skills, content knowledge, and English proficiency. Research-based and validated guidelines in the Sheltered Instruction Observation Protocol (SIOP) provide a model for achieving sheltered instruction goals. Educational software, such as Kurzweil 3000, delivers a highly customizable technology solution that supports SIOP guidelines.
Support for Sheltered Instruction Teaching Strategies
With Kurzweil 3000 as the foundation of your sheltered instruction program, you can provide whole-class instruction, while tailoring individualized instruction to accommodate ELL students.
Designed to suit multiple learning styles, Kurzweil 3000 provides a rich set of features that support Sheltered Instruction Observation Protocol (SIOP) guidelines, including:
Use speech, text, and visuals to make information comprehensible
Link new content to students' background, incorporating cultural information
Connect new material to prior knowledge and experience
Incorporate academic language through reading and writing
Allow for individual pace, time for processing
Provide strategies for learning and retaining information
Model analysis, inquiries and problem solving
Review, monitor, interactively with students
Comprehensive Support for Sheltered Instruction
Using Kurzweil 3000, educators can successfully immerse ELL students in English language, academic language, and content material-providing comprehensive support for your sheltered instruction program. Here's how it works:
Multi-Sensory User Interface
provides students with exposure to English language, academic language and content material in an interactive mode. Text-to-speech and word highlighting help students connect the written and the spoken word.
Multi-Format Input
- teachers can use virtually any material in a variety of formats - from scanned material and Classic Literature e-files that come with the product to moving GIF images and web pages to aid in comprehension.
Read Aloud and Highlighting
let students read, re-read and listen to material as many times as needed to gain comprehension and language fluency, while word/phrase/sentence highlighting aid in learning syntax and language structure.
Word Lists
allow for quick vocabulary list creation that aid in language acquisition and complement other study skills tools.
Extract Text, Outlines and Graphic Organizers
enable teachers and students alike to quickly and easily create study guides by distilling complex information into smaller, more manageable chunks that aid in student comprehension.
Bubble Notes
, while providing a means for annotations, can also accommodate two-way conversations and collaboration. Students and teachers can embed and respond to questions. They can also share thoughts and insights about material and information they are working on.
Review Supports
such as embedded Voice Notes and Bubble Notes in question-and-answer format can enable teachers to monitor students' comprehension, quickly assess and address areas of confusion, or in the case of speech, help correct issues such as pronunciation and syntax.
Get a free trial of the Kurzweil 3000 subscription today!