Individual Benefits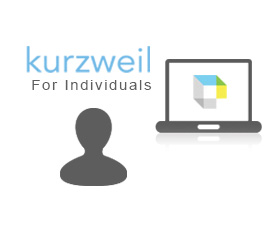 Customers choose Kurzweil 3000 because they like having a single interface for reading, writing, study skills and test taking. If you are looking for educational software that provides complete literacy support for an individual users in the classroom, or in the workplace, Kurzweil 3000 is a great solution.
For anytime, anywhere support for multiple students learn about
Kurzweil 3000
.
Get a free trial of the Kurzweil 3000 Standalone today!
New & Updated Features
Read
NEW Natural, high-quality Acapela text-to-speech voices
NEW Text-to-speech in 18 languages and dialects
NEW Supports EPUB
NEW Image Reader reads locked text, such as images or PDFs
NEW Microsoft Speech support-11 new voices
NEW OpenDyslexic font
UPDATED FineReader® OCR-the highest quality available
UPDATED PDF and additional file supports
Comprehend
NEW 12,000 picture dictionary graphics from Widgit, representing over 40,000 words
NEW Vocabulary study guides; English and bi-lingual
NEW Templates to support active reading, note taking, and chapter summaries
UPDATED American Heritage dictionaries®
Key Benefits
Tailors user experience to unique individual needs
Robust support for individuals with Learning Disabilities
Enhances education for new English Language Learners
Supports research based instructional practices
Aids students to meet the rigor of high academic standards
Provide access to academic content on any Windows PC
Usage tracked to inform academic progress
Demonstrate
NEW 10 writing templates added
NEW Tier 2 academic vocabulary list
UPDATED Word prediction
UPDATED Fill-in-the-blank-now with color
View the complete list of key features for
Windows
and
Macintosh
.