Why Kurzweil 3000?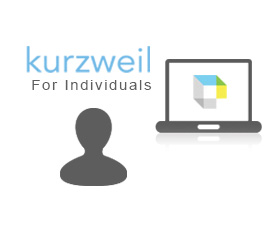 Kurzweil 3000 supports the complex tasks of developing fluency, vocabulary, comprehension, writing, study skills, and test taking to address a wide range of educational objectives. Accessing Kurzweil 3000 at home complements class instruction and extends learning beyond the walls of the classroom to ensure individual success for a lifetime.
Learn how Kurzweil 3000 supports individuals with learning disabilities, including
dyslexia
,
dysgraphia
, other
learning disabilities
, and
English Language Learners (ELL)
in the school and the workplace.
Are you read to take the next step? Start with a
30-day-free-trial.
Get a free trial of the Kurzweil 3000 for individuals today!

Students can independently access curriculum previously unavailable to them with Kurzweil 3000. Because of this, they can achieve a higher level of success

— Lisa H., Teacher/AT Coordinator