With 700+
Reading A-Z
books already available in Kurzweil 3000
®
format, now is the perfect time to see how Kurzweil 3000 can help your students succeed.
Reading A-Z leveled books are offered in a special eBook format that can be accessed using Kurzweil 3000 literacy software. These specially formatted books provide struggling readers hundreds of books spanning 29 levels of reading difficulty.
Students have the option of listening to or reading the books. Students can adjust the reading speed to a level that is appropriate to their needs. Kurzweil 3000 software also includes a bilingual dictionary for definitions and pronunciations in English and Spanish as well as tools for adding embedded questions or reading prompts.
Built on the principles of
Universal Design for Learning
, Kurzweil 3000 has been serving the needs of the nation's most challenged students, including individuals with special needs and learning difficulties, such as
dyslexia
,
dysgraphia
, attention deficit disorder or those who are
English Language learners (ELL)
.
Supports for students:
Text Reader
Bilingual dictionaries
Word prediction
Thesaurus
Talking word processor
Talking spell checker
Writing templates
Picture Dictionary
Access to digital files
MP3 Creation
Column notes and outline tools
Talking Tests and worksheets
Visual contrast tools
Embedded comprehension supports
Talking spell checker
Compatible with a variety of AT Tools
Learn how Blake Middle School from Medfield, MA uses Kurzweil 3000 in the classroom.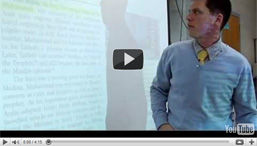 "The efficiency of material I can get through has improved. Kurzweil helps me get to more depth, and a higher level of understanding with my students. It helps them in their thinking, organization, writing, and also in their reading."

-- Steve Guditus
Teacher, Medfield, MA.