Kurzweil 1000 for Windows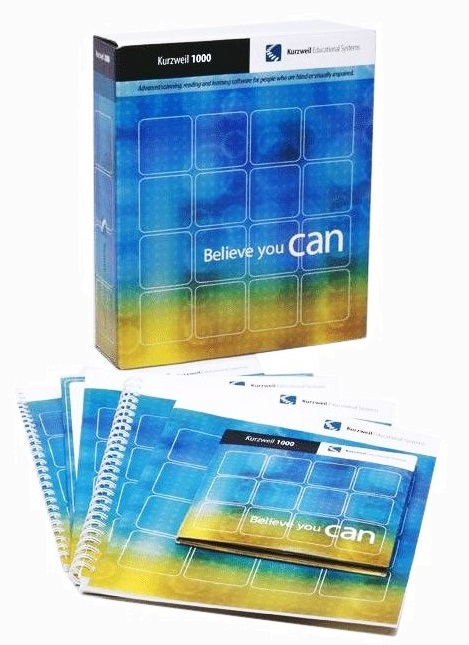 Kurzweil 1000 is an advanced reading tool for people who are blind or severely visually impaired. It works on a personal computer in conjunction with a flatbed scanner and synthetic speech to convert the printed word into speech.
With highly accurate optical character recognition (OCR) and crisp synthetic speech in an integrated package, Kurzweil 1000 is easy to use for beginners, yet powerful and flexible enough for advanced users. At home, school, or work Kurzweil 1000 is the logical choice for anyone who enjoys reading.
Enhance and Ease Learning Experiences
Kurzweil 1000 combines traditional reading machine technologies such as scanning, image processing, and text-to-speech with communication and productivity tools.
Pursue Any Reading Interests
It delivers quick access to a wealth of information including online books, magazines and encyclopedias.
Write and Edit Documents
Features for note taking, summarizing content, and outlining text are also included.
Save Time and Gain Independence
Study Tools
Professionals and students find Kurzweil 1000's comprehensive time-saving study tools extremely useful. Add bookmarks, text notes, voice notes and annotations; skim, summarize, and create outlines for your work, and have your documents open to the last position read. Plus, you'll have access to eighteen bilingual dictionaries.
Accurate Optical Character Recognition (OCR)
The ABBYY FineReader Version 11 OCR engine provides the most accurate OCR available. For the best possible scanning results, Kurzweil 1000 also has the ability to correct many errors. A noise filter option lets users ignore regions near the edge of a page that were incorrectly identified as text.
State-of-the-Art Speech Options
Clear, natural-sounding VoiceTextTM voices from Neo Speech and ETI-EloquenceTM voices from Nuance deliver the highest quality text-to-speech (TTS), making your reading a pleasure to hear. Microsoft Speech Platform delivers access to more than a dozen additional voices in a variety of languages. You can choose and adjust our many voice options to suit your individual preference.
Appointment Calendar with Audible Reminders
Keep track of your schedule with our easy-to-use calendar application. You can add, edit, and delete your calendar entries simply from the desktop taskbar, as well as set audible reminders that will play any sound file on your computer you choose.
Online Information Search and Retrieval
Enjoy quick access to information from a variety of sources, including e-books, magazines, encyclopedias, and the Merriam-Webster medical dictionary. Based on your criteria, Kurzweil 1000 will search select Internet repositories such as Bookshare.org, NLS Web Braille, AccessWorld, Talking Newspaper Association of the United Kingdom, NFB Publications, and Wikipedia (in multiple languages), and present you with your download choices.
Read Files Away From Home & Burn CDs
Kurzweil 1000 can send your files to a wide variety of hand-held devices so you can read and reference important material when away from your home or office computer. You can also create CDs of your files within Kurzweil 1000 if you have a CD burner.
Broad Range of File Access
Any file type that you can print through an application installed on your computer can be opened with Kurzweil 1000 — including PDF, ePub, and PNG files-which greatly expands your reading choices.
Quotes
I use Kurzweil 1000 to scan my books, mail, even food boxes. I have found it to be the most efficient and user-friendly way for me to read almost anything without human assistance. Each new version of Kurzweil 1000 has increased scanning accuracy and added features that make scanning, finding, and reading material of all types faster and easier.
Sarah Van O, Kurzweil 1000 User
Product Information
Learn more about what you can do with Kurzweil 1000.
Success Stories
|
Product Overview MP3 Recording
Help & Training
Downloads
Get software updates, free trials, and product guides.
Free Trial
|
Software Updates
|
Product Guides
Scanner Capability
Select your device, capture the image quickly and start reading! In addition to traditional scanners, Kurzweil 1000 now supports the following cameras for content acquisition: